MyStart
MyStart is a summer transition program that provides new students with a head start in their university career. Students have the choice to attend an in-person event or participate online in faculty-specific modules and live workshops.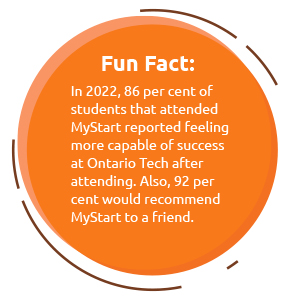 MyStart: Academic prep modules include an introduction to:
Active study strategies.
Common assignments and critical thinking.
Learning online.
Managing university expectations.
Math and chemistry* review.
Mindset and resilience strategies.
Navigating the library website and accessing library resources and tools.
Planning and time management.
Writing and research skills.
Please note, for students in Faculty of Energy Systems and Nuclear Science, Faculty of Engineering and Applied Science, or Faculty of Science, MyStart: Academic will focus on practicing math skills required for entry-level university math and science courses. Students will have the opportunity to review algebra, equations, inequalities, trigonometry, functions and vectors as well as meet their math professors.  
Faculty of Business and Information Technology students will also review business math skills.
If you have any questions, please email mystart@ontariotechu.ca.