Stride learning skills program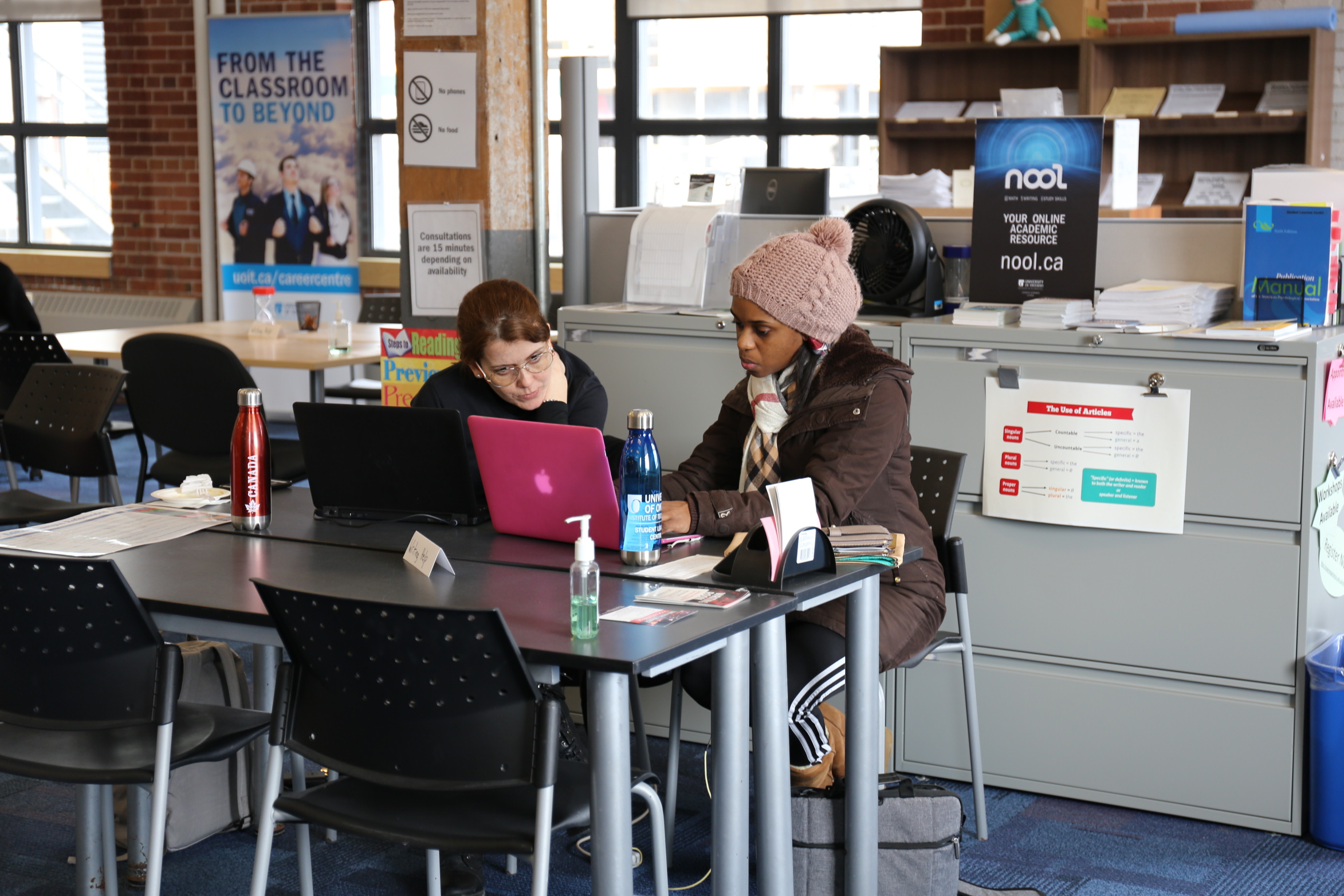 The Stride learning skills program helps you develop learning strategies and study skills. We offer a series of workshops, study sessions, and one-on-one or small group appointments to help you find your stride at university!
The program is designed to help you:
Demonstrate your awareness about what you think and learn.

Determine appropriate academic learning strategies that will contribute to your academic success (for example, study habits, planning, note taking, memory strategies, text analysis and time management).

Discuss self-management strategies (for example, self-awareness, assertiveness, problem-solving and self-advocacy skills).

Identify strategies to increase your resilience while navigating academic challenges.
If you have any questions about the Stride learning skills program, please contact studentlearning@ontariotechu.ca
We offer a series of virtual workshops to help undergraduate and graduate students develop the study habits and learning skills needed to be successful in university. These are intimate, interactive workshops that will involve collaborative activities.
To view the list of currently available Stride workshop topics and descriptions, please visit the Student Life Portal.
New workshops may be added from time to time; please check back regularly for new workshop descriptions.
REGISTER FOR A WORKSHOP ON THE STUDENT LIFE PORTAL
When you have completed five Stride workshops, please email
studentlearning@ontariotechu.ca
 for instruction on how to receive your LinkedIn endorsement.
One-on-one support is also available by appointment. In these appointments, our trained staff can help you create your own study plan and task lists, determine how to prioritize work, and discuss tailored learning and study skills strategies based on your own situation. 
We also offer small group appointments for students wishing to book a session with their peers. These group sessions are designed for friends and study groups who would like to discuss study strategies and learning skills together and with our trained staff.
If you are unable to attend a workshop session but would like to discuss one of the workshop topics, feel free to book a one-on-one or a small group appointment!
One-on-one and small group appointments are offered either by our Study Skills Specialist or by our Peer Success Facilitators. 
Appointments are 45 minutes long. Appointments with Peer Success Facilitators are offered online only; appointments with our Study Skills Specialist are available in-person and online. Please check the Student Life Portal for dates and times.
This is a virtual drop-in study session to study along with other students in your faculty and to learn and practice a specific study technique. We will be using a structured study time and break system to stay focused. The sessions begin with a short, mini-workshop (about 5-10 minutes), where the facilitator will discuss a specific study technique. Students are then encouraged to practice this technique during the session, though this is optional. Near the end of the session, we will end with a short (5-10 minute) debrief session as a group. Webcams are highly encouraged, but not required.
We offer drop in study sessions during midterms and finals. 
Led by our Peer Success Facilitators and special guests, these groups are designed for students looking for supportive ways to stay accountable throughout the term while learning some useful study strategies in the process. 
Benefits of joining a Stride study support group:
Access a space for sharing tips, concerns and resources.

Connect with students who are experiencing what you're going through.

Discover tools and information to help cope with the demands of university life.

Learn foundational skills, such as time management, stress management, reading and note taking, studying and test-taking strategies to be successful in university.

Support one another and hold each other accountable to avoid procrastination and cramming.
Drop in to just one session and learn a specific study skill or attend them all! Frequent attendance will allow you to connect with other students and develop a toolkit of learning strategies needed to be successful in university.
These meetings are not workshops, they are conversations. Students will be expected to unmute themselves and participate in discussion. Screen sharing is optional, but please be prepared to interact.
Each session is organized around a particular theme and will involve a discussion and a collaborative activity. There will also be an opportunity for group members to check in to discuss their progress and to ask questions. 
Visit the Student Life Portal to register. Feel free to register up to the last minute, if you would like to drop in for the session. 
We look forward to seeing you at these groups!
If you attend five Stride Study Support Group sessions or Stride workshops, you can add the experience to your Student Experience Record as well as email studentlearning@ontariotechu.ca to receive a LinkedIn endorsement.
Academic Presentations
Do you get nervous giving presentations in class? Are worried that you haven't been able to practice giving presentations to get comfortable with them? In this two-part workshop, you will learn the fundamental skills needed to give strong academic presentations in university and then have the chance to apply your learning in a presentation of your own.
Check Your Mindset
University can be full of exciting opportunities and positive experiences. However, we all go through those difficult times where we feel a bit discouraged and have negative thoughts. In this workshop, students will discover how gritty they are and the power of a growth mindset while participating in a discussion activity.
Effective Note Taking for Lectures
Do you frantically scramble to write down everything your professor says? Do you review your notes, only to find that they are unclear and difficult to follow? In this workshop, you will learn note taking strategies for university lectures and practice new techniques on an Ontario Tech lecture. Please bring a laptop, pencils/pens, a notebook and a textbook from one of your classes (electronic or paper).
Finding and Reading Journal Articles
Do you log onto the university library website and have no idea where to begin? In this workshop, you will learn about different types of text sources, search strategies, locating resources on the Ontario Tech library website and strategies for reading peer-reviewed journal articles. Please bring a laptop, pencils/pens and a notebook. You will need a working student number and network password.
Goal Setting: Developing a Success Strategy
Are you ready to set yourself up for success this semester? Success begins with goal setting. Take control of your life's direction, decide what you want to achieve, and make a plan to do it! In this workshop, you will learn how to create SMART goals and strategies to improve self-awareness and resilience. In addition, we will discuss an overall success strategy to help stay motivated, combat losing steam and prevent getting discouraged easily.
Healthy Study Strategies
University can be demanding, and sometimes we get so caught up in our studies that we forget to take care of ourselves. But taking care of our bodies and minds will make us more resilient and will help us stand a much better chance at success. Remember, staying healthy is far from impossible! In this workshop, we will provide strategies that you can use to prioritize your wellness while you study for your exams.
How to Read your Textbooks
Do you end up simply highlighting everything on the page or find yourself skipping your readings entirely? Do you have trouble understanding why you have been assigned certain readings? Do you forget what you have read as soon as you close your textbook? In this workshop, you will learn how to approach and read different types of texts encountered at university. Bring a textbook or two, journal articles if that is what you read, pens and a notebook or paper.
Ignite your Motivation
In this workshop, you will learn how to motivate yourself in a hybrid learning environment. You will learn strategies that increase motivation and focus, and how to create new habits. These strategies will not only help you find success in university but in all areas of your life.
Making Groupwork Work
Working in groups can be both a challenging and rewarding process. This interactive workshop will provide you with approaches to ensure that you feel comfortable and confident sharing your ideas, working together and presenting the group's work. By the end of the workshop, you will be able to recognize the benefits of working within a group, identify strategies to manage the process and apply proactive solutions to common challenges faced.
Managing Me: Time Management Techniques for Success
So much to do with so little time! Figure out ways to manage your studies, work and social commitments. Learn new time management strategies that you can apply to your life now. Come figure out a system and a plan to succeed.
Mastering Math Skills
Is math a tricky subject for you? Do you freeze up when you see word problems? You're not alone! This workshop will dispel the myth that some people are just bad at math. We'll cover skills for problem-solving, how to study and be a pro at tests, tips for solving word problems and more.
Procrastination Nation: Getting Back to What's Important
Do you love watching Netflix? Playing video games? Sleeping, then eating, then going back to sleep? So do we! But at what cost? This workshop will introduce you to strategies to help you fight procrastination and stay on task. Other topics discussed will include the importance of getting in a flow state. Let's get back to what's important. Stop letting procrastination be the thief of your time!
Study Hacks
The expert in anything was once a beginner. As a university student, you will become an expert at studying. But, you might not get there right away. Do you ever feel like your study habits simply aren't cutting it? Do you wonder what you could be doing to perform better in class and on exams? Do you know what study strategies will help you remember more? In this interactive workshop, students will learn foundational study skills and strategies to be successful at university.
Exam-specific workshops
Expect Success: Exam Study Planning
In this workshop, you will learn organizational strategies and essential steps for exam preparation. Come create a system to prepare for your exams.
How to Catch Up on Your Textbook Readings
In this workshop, you will learn strategies to connect with your textbook readings and skim textbook readings. We will talk about how you can incorporate these and other study strategies into your lifestyle. Bring a textbook you are currently reading, a laptop and current notes, pen and paper.
I Know I Shouldn't Cram… But How Do I Catch Up Now?
Many university students admit to cramming but cramming is not a productive long-term strategy for student success. In this workshop, we will explore why we cram and look at why we should avoid cramming. After this, we will discuss what we can do if we have fallen behind in our classes. From here, we will discuss the importance of reflection and we will consider ways to improve our study strategies going forward.
Mastering Multiple Choice Tests
Do you find multiple-choice tests/ exams tricky or stressful? If so, this workshop is for you. We will discuss helpful strategies when preparing to study and take multiple-choice tests/ exams.
Tame your Test Anxiety
Do you feel overwhelmed and anxious about exams? You are not alone! In this workshop, we will discuss some strategies to prepare yourself to succeed. We will dig deeper into what causes stress and how to combat those anxious feelings.