How we can help
The Student Life teams are available to support you and your students both inside and outside of the classroom. Consider collaborating with one of our teams by inviting us to present in your classroom or referring your students to us for support. There are various ways that our teams regularly work with faculty and staff. This page outlines some of the specific ways that you can collaborate with Student Life. We encourage you to review all of our services to better understand how we can work together to ensure the success of our students. 
Get in touch with the Student Learning Centre by emailing studentlearning@ontariotechu.ca 
What can the Student Learning Centre do?
Provide course support.
Beyond offering students self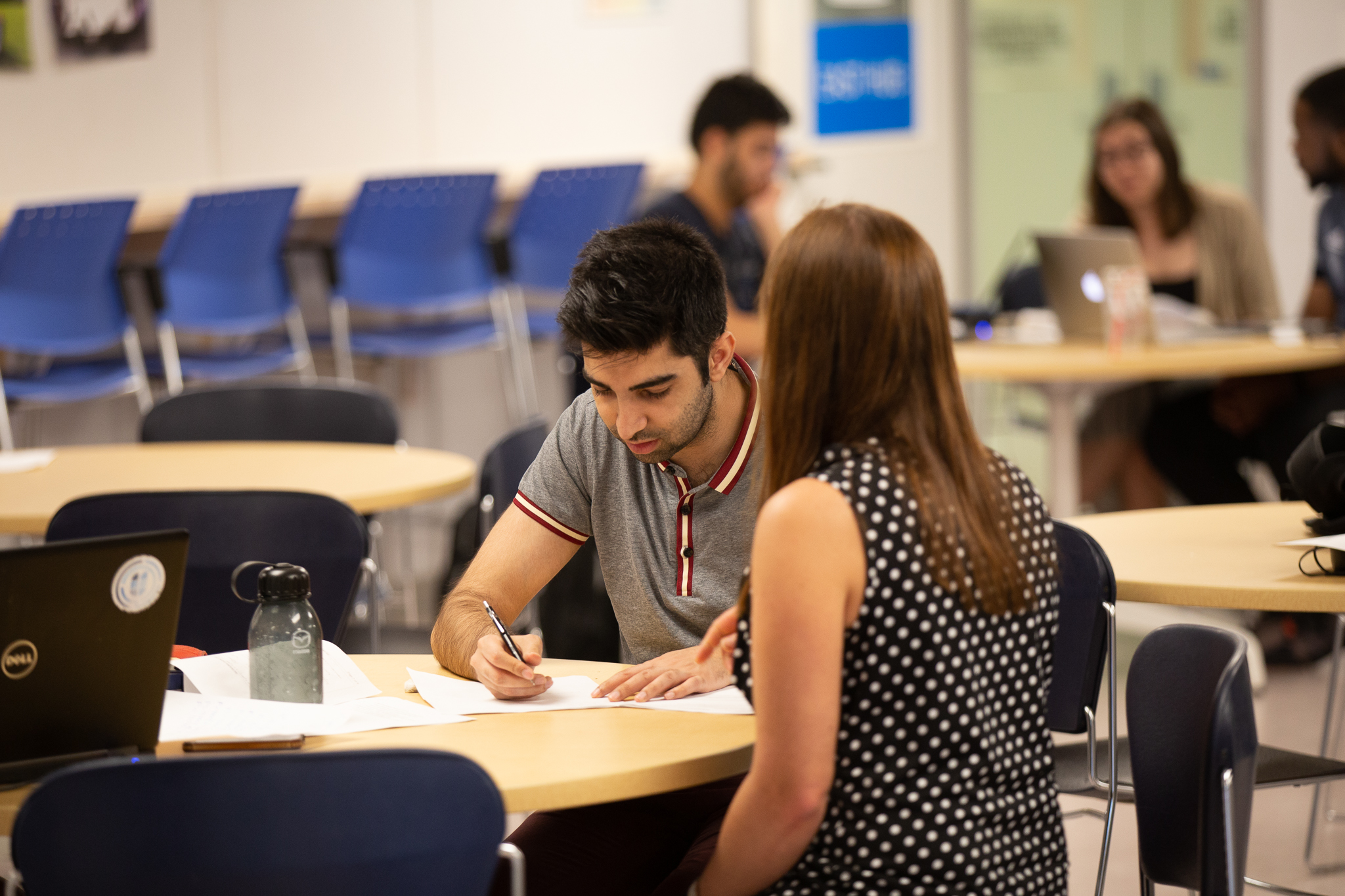 -access resources, Student Learning Centre staff also work with individual faculty members upon request. This support comes in the form of assignment planning, in-class workshops, Peer Assisted Study Sessions (PASS), referrals, subject-specific resources, and support for bilingual and multilingual (ESL/EAL) students.
Visit your class to facilitate workshops.
The Student Learning Centre team can develop workshops to supplement your course curriculum. Our support in writing, ESL/EAL, math, study skills and physics can complement your curriculum. Workshops may be delivered at a time that is convenient for your students. Please provide at least two weeks' notice to schedule an in-class workshop or contact us at least three weeks in advance for a customized workshop request. 
Provide feedback on assignment instructions.
Academic Subject Specialists can provide comments on your assignment to enhance student understanding. An Academic Subject Specialist can review the assignment and recommend enhancements that can improve the student's output. The feedback is meant to be additional input on assessment design. Clear wording, expectations and a defined process will benefit both the students and the professor. Requests require at least two weeks' notice to ensure appropriate time for careful input.
How can you collaborate with the Student Learning Centre?
Refer your students to us.
User statistics show many students use our help based on their professors' referrals. We appreciate the support of faculty recommending and promoting our services to their students. If you are interested in providing information on Canvas about our services, email studentlearning@ontariotechu.ca with your request and we can send relevant online promotional materials to share with students.
Download the writing services referral form
Peer Assisted Study Sessions (PASS)
The PASS program supports historically difficult courses where students find course content to be particularly challenging. Led by PASS Leaders, student sessions allow students to study and learn in a group environment that integrates course content with study skills.
PASS leaders are upper-year students who are chosen by faculty members and have achieved an A in the course. They participate in a comprehensive two-day training program in addition to receiving ongoing training and monitoring.
Contact the Peer Learning Coordinator at studentlearning@ontariotechu.ca if you are interested in having Peer Assisted Study Sessions available for your course.
Stride learning skills program
Our study skills and learning strategies team is available to:
Present study skills and learning strategies content in your classroom.

Create asynchronous study skills content for your course.

Take your referrals of students who may be struggling and in need of additional support.
Please contact us at studentlearning@ontariotechu.ca for more information
Get in touch with the Career Centre by emailing careercentre@ontariotechu.ca
What can the Career Centre do?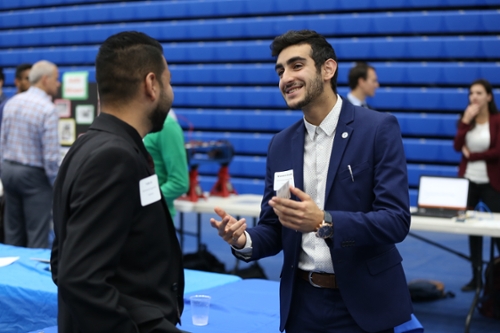 Visit your classes and work with you on special programs or workshops.
We are often invited to come to classes to present or facilitate workshops about career and employment issues, and/or to offer special workshops and panel events with employers on career options for specific disciplines/majors. Please let us know if you'd like us to prepare a panel or workshop for your students.
Work with you to connect your students with industry recruiters.
We frequently meet with industry recruiters, and many of them are interested in getting to know more about our faculty, or in giving talks about their research and technologies. Please let us know if you would be interested in such collaborations so we can make those connections when the opportunities present themselves.
How can you collaborate with the Career Centre?
Encourage your students to use the services of the Career Centre.
Many students look to their professors and academic advisors for direction and guidance on what to do next. Learn about services available to students that contribute to career readiness.
Participate in our career education programs and panels.
We often host a wide range of panel events and workshops each year with students of all faculties at the undergraduate
and graduate level. If you are interested in participating, we would certainly welcome your insight and expertise.
Suggest topics for Career Centre events or workshops.
If you have ideas about career-related topics that you think would be of value to students in relation to their employability skills or industry trends, please let us know. We are always looking for new ideas for workshops or events that will help students be successful in their future careers.
Meet employers interested in hiring your students.
From time to time employers express interest in meeting with faculty. If you would be interested in meeting with employers, please let us know and we'll be sure to contact you when someone will be coming to campus.
Encourage your industry contacts to post their employment or internship opportunities with the Career Centre.
We offer employers (local, national and international) the opportunity to post their employment and/or volunteer positions free of charge. Employers may take advantage of our other recruitment services and learn more about the best ways to raise their profile with our students.
Hire a student.
Hiring students or young alumni on a full-time, part-time or summer basis is a great way for them to gain insight and experience in the working world. Please post your positions through the University Works Program or our Student Life Portal.
Encourage alumni to use the services of the Career Centre.
Alumni are welcome to use the services of the Career Centre in the early stages of their career to help them refine their job search or explore new opportunities. Alumni can book an appointment with a career counsellor or employment advisor to assist in that process.
Identify alumni who want to participate in career workshops or speaker events.
Our alumni are often engaged as panellists and guest speakers at career events, and their advice and insights are highly valued by our students. If you know of recent graduates from your program who you think would be good speakers, please tell us about them and we'd be glad to include them in upcoming events.
Get in touch with Student Mental Health Services by emailing studentlifeline@ontariotechu.ca
What can Student Mental Health Services do?
Visit your class to facilitate a presentation.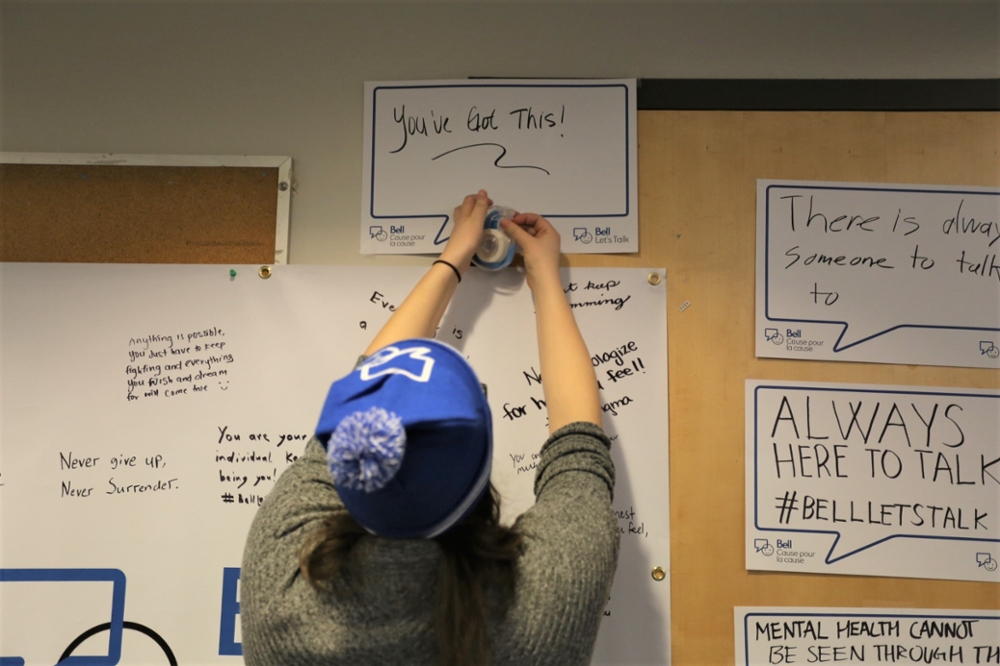 Student Mental Health Services is offering a variety of brief presentations with practical strategies to support students' academic success. Please select a topic you would like us to present to your online class. If you are choosing more than one presentation for the same day, please allow 10 to 15 minutes for each topic. If you would like us to complete the presentations on different days, please submit a separate request form for each day.  Please fill out this request form at least two weeks in advance and we will try our best to accommodate your preferred time and date.
---