Learning Skills and Study Strategies
Study skills advising helps students plan for success and improve their academic performance. Appointments help students set goals, create a study plan, and develop strong study habits. Study skills support is also available through the Stride program's workshops and study support groups.
The following are popular topics that students typically seek help in:
Exam and test preparation 
Goal setting and motivation
Learning styles
Memory skills
Note taking
Organization and time management
Presentation skills
Reading skills
Study or task planning
Book an appointment on the Student Life Portal
The Stride learning skills program helps you develop learning strategies and study skills. We offer a series of workshops and study sessions to help you find your stride at university!
The program is designed to help you:
Demonstrate your awareness about what you think and learn.
Determine appropriate academic learning strategies that will contribute to your academic success. For example: study habits, planning, note taking, memory strategies, text analysis and time management.
Discuss self-management strategies, for example: self-awareness, assertiveness, problem-solving and self-advocacy skills.
Identify strategies to increase your resilience while navigating academic challenges.
If you have any questions about the Stride learning skills program, please contact studentlearning@ontariotechu.ca.
Register for a virtual workshop on the Student Life Portal
Led by our Peer Success Facilitators and special guests, these groups are designed for students looking for supportive ways to stay accountable throughout the winter term while learning some useful study strategies in the process. 
Benefits of joining a Stride study support group:
Access a space for sharing tips, concerns and resources.
Connect with students who are experiencing what you're going through.
Discover tools and information to help cope with the demands of university life.
Learn foundational skills, such as time management, stress management, reading and note taking, studying and test-taking strategies to be successful in university.
Support one another and hold each other accountable to avoid procrastination and cramming.
Drop in to just one session and learn a specific study skill or attend them all! Frequent attendance will allow you to connect with other students and develop a toolkit of learning strategies needed to be successful in university.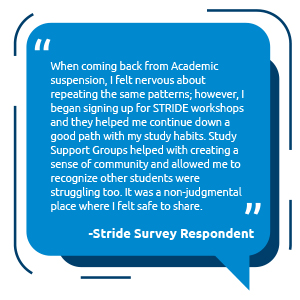 These meetings are not workshops, they are conversations. Students will be expected to unmute themselves and participate in discussion. Screen sharing is optional, but please be prepared to interact.
Each session is organized around a particular theme and will involve a discussion and a collaborative activity. There will also be an opportunity for group members to check in to discuss their progress and to ask questions. 
Visit the Student Life Portal to register. Feel free to register up to the last minute, if you would like to drop in for the session. 
We look forward to seeing you at these groups!
If you attend five Stride Study Support Group sessions or Stride workshops, you can add the experience to your Student Experience Record as well as email studentlearning@ontariotechu.ca to receive a LinkedIn endorsement.
Appointments should be made in advance, especially during peak times. Peak times are typically a few weeks prior and leading up to midterms and final exams. However, the Student Learning Centre offers drop-in study sessions through our study halls and writing room.
Please provide 24 hours' notice to cancel an appointment. Appointments cancelled with less than 24 hours' notice:
Will be counted as a no-show.
After three no-shows, a student may be barred from accessing the service for the remainder of the semester.
Will result in one session taken off the semester total (12 appointments per calendar each semester).