Accessibility
Student Life is dedicated to providing academic support and counselling to your student so they can have an integrated, fulfilling and successful university career. Among the services we provide are:
A distraction-reduced area to write tests and exams.
Access to volunteer student note takers.
Alternate-format texts or other specialized learning materials.
Co-ordinating the receipt of necessary documentation from a regulated health professional.
Counselling on effective study skills.
Working with students to create an individualized accommodation plan.
Hardware and software to enrich the student learning experience.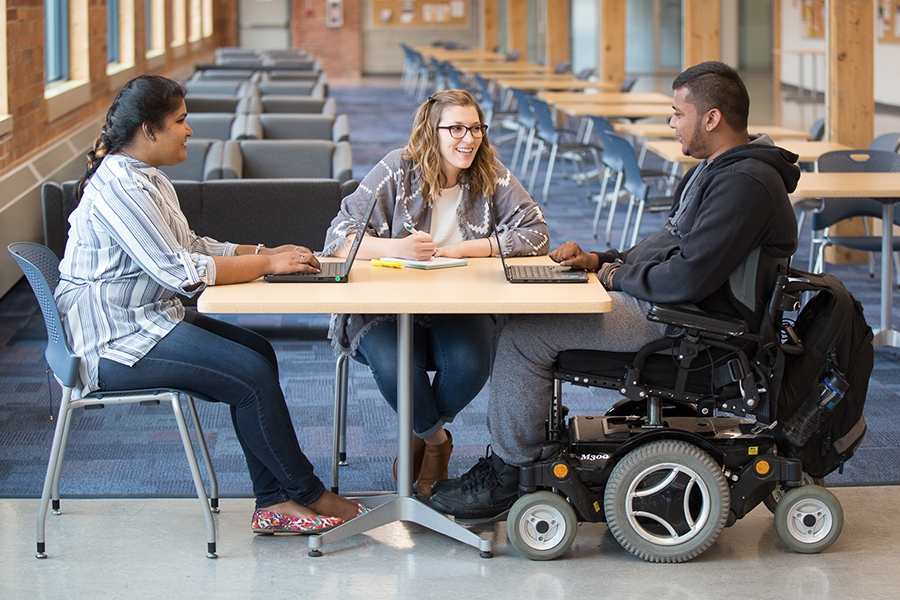 Registration Process
To access support through Student Accessibility Services students must identify themselves, register and meet with an accessibility advisor or learning strategies counsellor. Together they will determine what accommodations are required and agree on an accommodation plan.
We encourage first-year students to make an appointment with us as soon as they are accepted at the university so that all the necessary accommodations are in place from the first day of classes. Returning students are required to meet with their assigned advisor or counsellor at the beginning of each semester to discuss and evaluate the previous accommodation plan and to agree upon one for the upcoming academic session.  

To register with Student Accessibility Services, students must bring in recent and relevant documentation from a certified health care practitioner in the field to which the disability applies, and must include the functional or cognitive limitations and impact on the student's academic performance. 

If you suspect your student has a disability for which no previous diagnosis has been made, an accessibility advisor or counsellor will guide the student through the important steps of securing documentation. 
What do we mean by "accommodation"?
An accommodation is an adaptation or adjustment in the way a student accesses course materials and learning environments. Our faculty and staff are committed to adapting to meet the unique learning needs of students with disabilities.
Accommodated students are expected to adhere to the same academic standards as any other student and are evaluated by the same academic criteria and requirements. 
I have always looked out for my student at school. Do I continue doing this at university?
We believe that there is more to the university experience than strictly academics; therefore, we encourage students to learn to navigate through their own university experiences. This self-advocacy will assist students with the process of maturing into adulthood.   

Be assured that Student Accessibility Services advisors and counsellors will assist students if necessary with any issues they may encounter. You as their supporter are encouraged to allow students to learn and build their self-advocacy skills.
How do I know my student's unique needs will be met?
In conjunction with the evaluations done by other professionals, our advisors and counsellors are trained to meet the needs of students with disabilities. Supports may include, but are not limited to:
alternative testing arrangements and accommodations
access to counselling
use of interpreters
obtaining learning materials in alternate formats
providing learning strategies instruction
Our aim is to ensure that students have the tools needed to compensate for functional limitations, and not to provide one student with an advantage over another. The purpose of academic accommodations is to ensure that there is equal access to and the opportunity to benefit from all educational experiences at the university 
Your student will have the same level of support whether they attend classes at the university's north Oshawa location or the downtown Oshawa location.
Are all the records confidential?
Yes, confidentiality is maintained at all times. It is up to students to identify themselves to faculty members and at no time does your student's participation at Student Accessibility Services become part of their academic record.
All students registered with Student Accessibility Services sign a form that indicates with whom we can discuss personal information. If your student indicates that we can discuss personal information with you, then we will do so.
Similarly, for the student's safety and privacy, Student Accessibility Services will communicate with the student via email using their secure student ID. We do not send messages to Hotmail, Gmail or other non-campus and non-secure websites.
Is there financial help available for our student's education?
Education costs can be a burden on many families. The Ontario Human Rights Code and the Accessibility for Ontarians with Disabilities Act ensure students with disabilities do not incur costs associated with their learning that exceed those incurred by other students. For example, there is no additional cost to the student who uses material in an alternative format.
There is a government-funded bursary specifically for students with disabilities who also qualify for Ontario Student Assistance Program (OSAP) called the Bursary for Students with Disabilities (BSWD).
More information on these programs can be found in the student area of this website or on the OSAP website.
Your student may also qualify for financial assistance, scholarships or bursaries that are open to all students. More information can be found in the Financing Your Education section of the university's website.