Get Experience Fair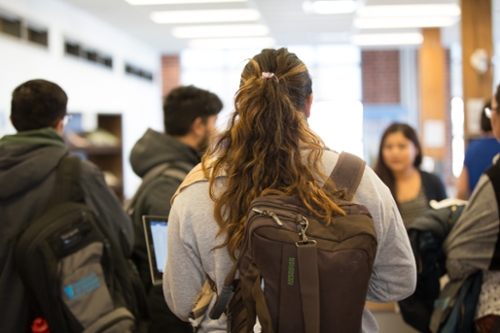 The Career Centre hosts the Get Experience Fair annually at the downtown Oshawa campus location to give students an opportunity to connect with community organizations that are looking to recruit for current volunteer opportunities in the Durham Region and Greater Toronto Area. Students from all of our faculties are invited and encouraged to drop by and speak with community agencies that interest them.
The 2024 Get Experience Fair will be held on
Wednesday, January 24
from
11 a.m. to 3 p.m.
at Charles Hall.
For more information about the event, please contact
careercentre@ontariotechu.ca
.
You can review the guidebook for volunteer agencies that will be attending the Get Experience Fair. Please note: The guidebook is updated continuously, so check back regularly! 
Past Volunteer Agencies

AIDS Committee of Durham Region

AIDS Committee of Durham Region leads in the creation of a safe and healthy community, free from stigma, where every person has the opportunity for a meaningful and fulfilling life. We create an inclusive environment for a collaborative approach to education, support and outreach. We build on the strengths and abilities of people living with HIV, AIDS and related co-infections, those at risk and their support networks in Durham Region.

Canadian Cancer Society

The Canadian Cancer Society is a national, community-based organization of staff and volunteers whose mission is the eradication of cancer and the enhancement of the quality of life of people living with cancer.

Canadian Revenue Agency

The Canadian Revenue Agency is a federal agency that regulates tax laws for the Canadian government as well as majority of provinces and territories. The CRA also serves to monitor compliance on behalf of governments across Canada and also administers audits and collections for businesses and individuals.

Community Care Durham

Community Care Durham (CCD) is a multi-service registered charitable organization providing a broad range of community support services for adults and their caregivers who have needs related to ageing, physical and/or mental health. We assist our clients with services that support their independence, health and quality of life.

Community Development Council Durham

Community Development Council Durham is a non-profit social planning organization that delivers front-line social service programs to community members of the Durham region. Programs and services include community supports, housing assistance, and more.  

Community Living Ajax-Pickering Whitby

Community Living Ajax-Pickering and Whitby is dedicated to supporting people with developmental disabilities so they can live full lives and be effectively, safely and inclusively supported in their own communities. We serve that mission by offering a broad range of personalized supports and services, closely aligned with their individual goals and choice of where they want to live, learn, work and enjoy their leisure time.

Distress Centre Durham

Distress Centre Durham helps people in distress to cope, by providing emotional support, crisis/suicide management and community education. Our values provide the philosophical foundations for all that we do, collectively and individually, with service users, responder volunteers, staff and our communities.

Durham Rape Crisis Centre

The Durham Rape Crisis Centre is committed to the eradication of sexual violence in our society in order for all women and children to safely occupy their own bodies and beings as is their fundamental human right.

Extendicare Oshawa

Extendicare Oshawa provides long-term care services for individuals who are no longer able to receive the care they need at home or in assisted living. They are committed to providing quality care for their residents and offering excellent services and supports to make residents feel at home.

Girls Inc.

In partnership with schools and at Girls Inc. centres, we focus on the development of the whole girl. She learns to value herself, take risks, and discover and develop her inherent strengths. The combination of long-lasting mentoring relationships, a pro-girl environment, and research-based programming equips girls to navigate gender, economic, and social barriers, and grow up healthy, educated, and independent. Informed by girls and their families, we also advocate for legislation and policies to increase opportunities and rights for all girls.

Habitat for Humanity Durham

Habitat for Humanity Durham is a nonprofit housing organization that believes everyone deserves a safe and decent place to live. We the help of volunteers, donors, and community partners we mobilize communities to help working, lower-income families build strength, stability, and self-reliance through affordable homeownership.

Kinark Child and Family Services

Kinark is a leading provider of services and supports for children and youth with complex needs and their families.

Lakeridge Health

Lakeridge Health is Durham Region's acute care provider, offering one of the broadest and most comprehensive ranges of acute care services in the province.

Literacy Council of Durham Region

The Literacy Council of Durham Region is a charitable non-profit volunteer organization dedicated to increasing adult literacy in the Durham Region guided by the principle Each One Teach One.

Ontario Shores

Ontario Shores Centre for Mental Health Sciences (Ontario Shores) is a public teaching hospital providing a range of specialized assessment and treatment services to those living with complex and serious mental illness.

PFLAG Durham

PFLAG Durham is the only nonprofit LGBTQ+ organization in the Durham Region that provides direct supports, services and education to individuals on issues of sexual orientation and gender identity/expression.

Project: Restore FIBI (Families Impacted by Incarceration)

Project: Restore FIBI exists to serve and support families who have a loved one behind bars. Our approach centres on the family as a whole and the provision of holistic family services, which are further complemented by one-on-one focused support for individual family members. We believe that if we focus on restoring families then we can transform communities.

Simcoe Hall Settlement House

Simcoe Hall Settlement House is a not-for-profit Community Resource Centre dedicated to aiding and improving the lives of less advantaged children, families and vulnerable adults.

Social Research Centre

The Social Research Centre (SRC) at the University of Ontario Institute of Technology is an interdisciplinary, social science research and training centre within the Faculty of Social Science and Humanities. The centre offers a variety of research services to both university faculty and administrators, as well as clients outside the university looking to do research primarily in the Durham Region.

Station Gallery

Station Gallery is a non-profit public art gallery offering art classes for all ages and abilities, engaging exhibitions, family art days and fun community events.

Victim Services of Durham Region

Victim Services of Durham Region (VSDR) provides crisis response, intervention and prevention services immediately following a crime or sudden tragedy.

VON Durham

VON Durham Site Home and Community Services provides services for hospice and palliative care. The organization also focuses on providing emotional, social, and spiritual support for individuals and families facing: life-limiting diagnoses, advanced illness, death, and bereavement.