The Dimensions of Wellness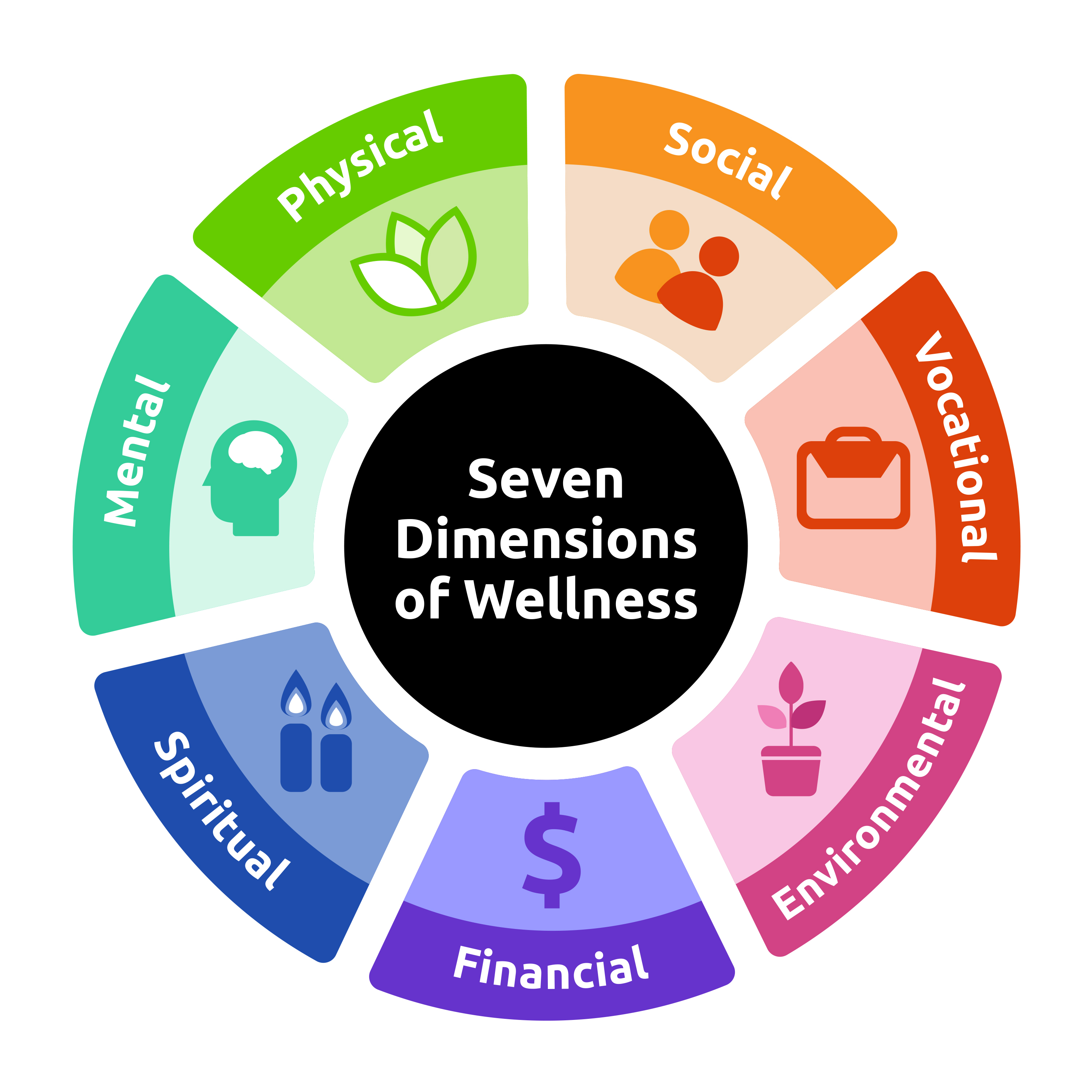 Wellness encompasses seven interdependent dimensions: physical, mental, social, environmental, vocational, financial and spiritual.
These dimensions work in harmony and contribute to our overall quality of life. Striving for wellness involves taking a proactive and personalized approach to being well within each dimension, and taking action to develop healthy goals, habits and coping strategies. 
Learn about each dimension of wellness including definitions, strategies and a variety of on-campus resources:
Environmental wellness refers to how the environment impacts our wellness and involves learning about—and contributing to—the health of the planet. Environmental wellness promotes connecting with nature, establishing a sustainable lifestyle, protecting natural resources and eliminating waste. It involves maintaining a strong environmental consciousness and having respect for your surroundings. 
As we face the realities of the climate crisis—including increasing global temperatures, rising sea levels, and intense storms and flooding—it's common to experience feelings of anxiety, grief or hopelessness.
Strategies to improve your environmental wellness:
Be aware of your impact on the environment and live in harmony with the Earth.

Care for the environment by following the four R's (reduce, re-use, re-think, recycle).

Conserve energy by using energy-efficient light bulbs.

Eat locally produced food and visit local farmer's markets.

Educate yourself on environmental issues.

Maintain a clean, comfortable and organized personal environment.

Print less by reading and sharing materials online.

Spend time outdoors, and connect with nature by going for hikes or walks.

Unplug electronics whenever possible.

Use a reusable water bottle, coffee cup, and lunch container along with reusable bags or paper bags whenever possible.

Walk, ride a bike or take public transportation instead of driving a car.
Campus resources to improve your environmental wellness:
Financial wellness involves the ability to meet financial obligations, feeling secure about your financial future and making choices that allow you to enjoy life. Financial struggles are a common source of stress and anxiety for students, and can impact all aspects of wellness.
Strategies to improve your financial wellness:
Contact the Student Awards and Financial Aid team for assistance.

Develop a budget for food, transportation, tuition, entertainment and incidentals, and try not to make impulse purchases. 

Engage in low-cost, self-care activities such as hiking, potluck dinners, and movie or game nights at home.

Learn more about the student health and dental insurance plans, which provide coverage for prescription drugs, vision, dental, orthotics, travel insurance and more.

Make use of awards, bursaries and scholarships. 

Save money by cooking meals at home and eating out less. 

Set short-term and long-term financial goals. 

Take advantage of all student discounts, and use sale flyers or online coupon mobile applications.
Campus resources to improve your financial wellness:
Spiritual wellness involves developing a set of guiding values, morals, principles and beliefs that give direction to one's life by providing a sense of meaning, and purpose. While spirituality may involve engaging in religious practice, it's not required to achieve spiritual wellness.
Strategies to improve your spiritual wellness:
Consider using a daily gratitude journal to increase your awareness.

Continue to seek purpose in your life and recognize that this process takes time.

Explore and clarify your personal values and be aware of how they change over time.

Learn about faith-based and spiritual services in the local community.

Make time for reflection or prayer and to connect with nature.

Practice compassion and open-mindedness.

Spend quality time with loved ones and have open discussions about values.
Campus resources to improve your spiritual wellness: