What is the Ambassador program?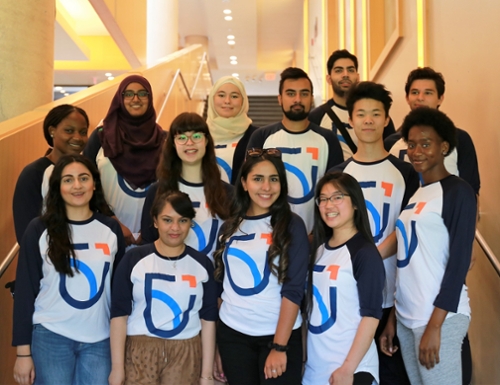 The Ambassador program is for students looking to get involved, positively contribute to the campus community and become leaders on campus.
Throughout the program, you'll be given exclusive opportunities to volunteer at events and participate in an ongoing workshop series, designed to support your personal and professional growth. 
Why should I become an Ambassador? 
Develop your leadership skills and gain practical work experience.

Gain access to exclusive involvement opportunities and free Ontario Tech swag. 

Meet new people and join a community of student leaders. 
About the program
About the program
Participation in the Ambassador program will provide you with the opportunity for personal development in five domains.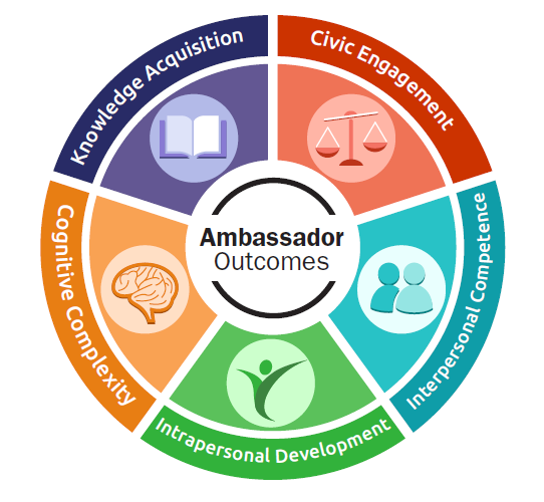 Civic Engagement: You'll explore social responsibility as it relates to societal systems of power and oppression.
Cognitive Complexity: You'll develop critical thinking skills through creative problem-solving.
Interpersonal Competence: You'll cultivate interpersonal skills through collaboration and teamwork.
Intrapersonal Development: You'll practice reflection in order to increase self-understanding.
Knowledge Acquisition: You'll demonstrate an ability to understand, connect and construct knowledge.
In levels one through three, you'll participate in approximately 5 to 8 hours of training, each level building upon previous training knowledge. You'll then apply this knowledge through participation in exclusive volunteer opportunities. In level four, you'll collaborate with other students on a project that highlights the knowledge, skills and abilities developed throughout the program.
In order to obtain recognition for your involvement in the Ambassador program, you must complete the following for each level:
Level one: Training (AODA + Mindsight) - 15 volunteer points, two cultural safety activities

Level two: Training - 15 volunteer points, two cultural safety activities

Level three: Training - 15 volunteer points, two cultural safety activities 

Level four: Culminating project
Training schedule
Training schedule
In order to be considered an Ontario Tech Ambassador, you must complete Level One training.
Ambassador training
All training sessions are conducted using the following format: 
Part one: Hosted through Google Classroom

Upon registering, you'll be placed in a part one classroom in 3 to 5 business days. Part one is to be completed on your own time and must be submitted prior to attending part two. 
Part two: Synchronous—hosted either virtually or in person


Dates and times of part two sessions will be announced regularly through part one's Google Classroom. 
Upcoming part two training dates
Once you've completed your part one modules through Google Classroom, you're eligible to attend a live part two session. 
Level One:
Saturday, November 11 | 9:30 a.m. to 12:30 p.m. via Google Meet
Have questions about the schedule or format of the Ambassador program? Feel free to contact ambassadors@ontariotechu.ca. 
If you're interested, your first step is to attend the Ambassador level one training! 
Ambassador leadership opportunities