Ambassador Program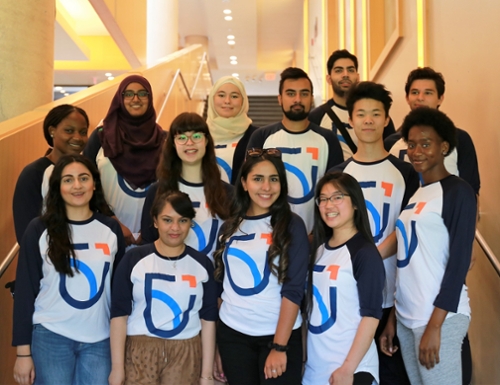 The Ambassador Program is for students looking to get involved, positively contribute to the campus community and become leaders on campus. Throughout the program, Ambassadors are given exclusive opportunities to volunteer at events and participate in an ongoing workshop series, designed to support their personal and professional growth.
Ambassador responsibilities:
Engage in providing feedback (for example, policies, surveys).

Participate in and attend university events 

Support staff and faculty at events.

Support students.

Volunteer at major university events (for example, Ontario Universities' Fair, Open House, MyStart and Orientation).
Important updates for 2020-2021 academic year
We have converted our eight-hour in-person training into two virtual parts:
Part One will be hosted through Google Classroom.
Part Two will consist of attending a live session online.
Part One is completed on your own time and must be submitted prior to attending Part Two. Students will receive access to Part One after registering. When registering below, please select the live session you plan on attending, this will determine which Google Classroom you are put into for Part One. After registration, students will receive additional information within three days.
If you have any further questions, email ambassadors@ontariotechu.ca.
Being an Ambassador is a great way to develop your leadership skills, meet new people, and get involved on campus.
If you are interested in becoming an Ambassador, your first step is to attend the Ambassador level one training.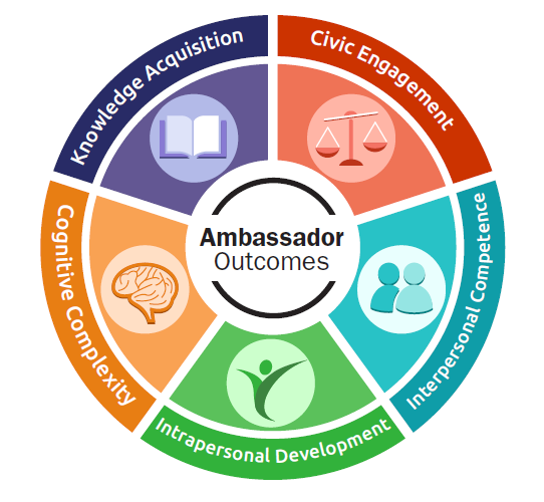 Participation in the Ambassador Program will provide you with the opportunity for personal development within the following five domains: 
Civic Engagement: You will explore social responsibility as it relates to societal systems of power and oppression.
Cognitive Complexity: You will develop critical thinking skills through creative problem-solving.
Interpersonal Competence: You will cultivate interpersonal skills through collaboration and teamwork.
Intrapersonal Development: You will practice reflection in order to increase self-understanding.
Knowledge Acquisition: You will demonstrate an ability to understand, connect, and construct knowledge.
In levels one through three, you will participate in a full-day training, each level building upon previous training knowledge. You will then apply this knowledge through participation in exclusive volunteer opportunities. In level four, you will collaborate with other students on a project that highlights the knowledge, skills and abilities developed throughout the program.
In order to obtain recognition for your involvement in the Ambassador program, you must have completed the following for each level:
Level One - Training (full day + AODA + Mindsight), 15 volunteer points, Campus Connected 

Level Two - Training, 15 volunteer points 

Level Three - Training, 15 volunteer points 

Level Four - Culminating project 
In addition, before the start of each school year, you will be asked to complete a refresher module that will provide you with any program updates and university changes that are important to know as a student leader.